Watch your property and water flowers
In addition to securing the cottage I also use EyeSee together with Smart socket for watering my flowers or vegetables, or switching the heating on and off.
EyeSee camera is an ideal solution for securing cottages and recreational facilities. The same conclusion was also reached by Mr. Jiri Dusek, who along with his neighbour bought the camera to secure his summer house. Both Mr. Dusek and his neighbour use their cameras to guard the cottages themselves as well as the gardens.
I can both see the actual weather at the cottage and check if the sprinklers are working.
"I decided to get the camera mainly because there was a rapid increase in the number of recreational facilities' thefts in the neighborhood – especially in winter when the cottages are abandoned for most of the time. The EyeSee camera is placed outside and monitores the entire cottage together with its access road," says Mr. Dusek.
But in addition to guarding the cottage and the surrounding area, the EyeSee enables many other functions. Mr. Dusek decided to use one of them by connecting the EyeSee camera with the Smart socket. "In addition to monitoring the cottage I also use the EyeSee together with the Smart socket for watering my beds with tomatoes and other vegetables. Depending on the current situation – for example, when the sun shines all day and the weather is dry – in the evening, I turn on the Smart socket remotely via jablotool.com. The socket switches on the pump placed in the water tank, and after that the hose that is at the roots of the vegetables, starts to sprinkle water.
Thanks to the camera, at the same time, I can both see the current weather at the cottage and check if the sprinklers are working. For an easier control I have installed a light as well – when the light is on, it means that the pump is drawing. After 2-3 minutes of watering I turn off the pump remotely again. So I water the vegetables when I need and for how long time I need. And I can see everything at the same time."
Mr. Dusek, however, decided to use all of the possible advantages of the connection of EyeSee and Smart socket, even in winter, when it is very unpleasantly cold at the cottage right after his arrival. "When there is no need to water the beds, like in fall or winter, I use the Smart socket to run the radiator. Before leaving for the cottage I turn on the Smart socket comfortably from my home using jablotool.com, hence the radiator plugged into it switches on. Before I arrive to the cottage, which takes about one hour, it is already warm inside."
Check the situation in the remote area
Accessories extend your possibilities
Solution
EyeSee

Mobile security camera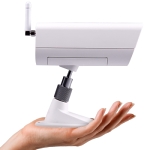 Advanced technology and 7 types of detectors to keep an eye on what's important.