Essence
Business desktop phone
Comfortable and intuitive mobile desktop phone with 4G / VoLTE support, contact synchronisation and cloud administration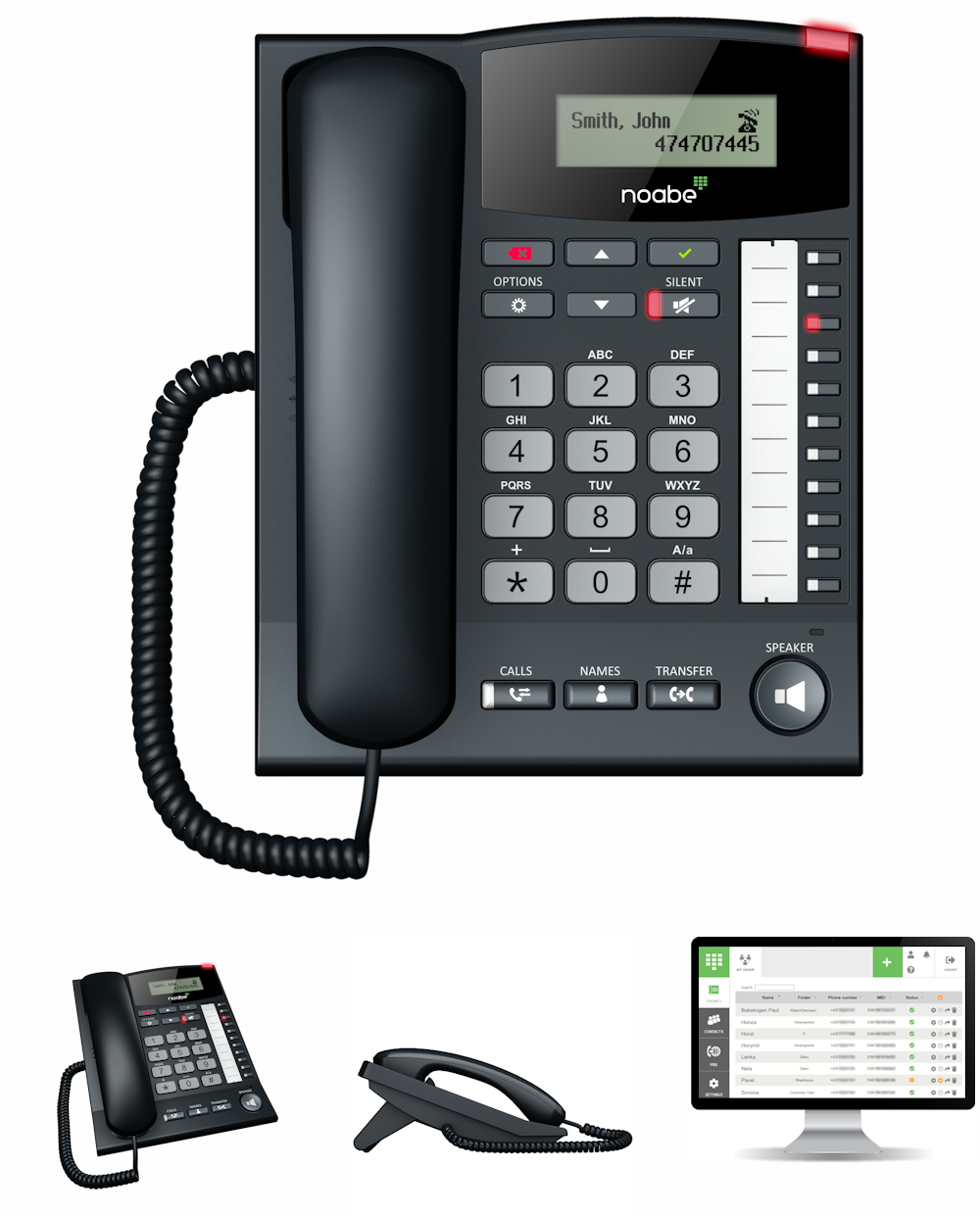 Familiar and smart
Familiar shape of an office phone, intuitive use, synchronized contacts, first-class reliability and cloud administration. That makes Essence an ideal SIM operated phone for almost any office. Keep the flexibility of mobile phone but enjoy large keypad and calling with the proper handset.
Comfortable and helpful
Features like loudspeaker, silent mode or programmable call transfer sequence make everyday use of Essence comfortable.
Eleven hotkeys not only offer quick dialling of your most important contact, but also notifies you about missed calls. Your boss did not reach you? The blinking indicator light next to the assigned hotkey lets you know.
Always synchronized
Our cloud service Jablotool.com offers web access to your phone. You can comfortably manage your phone book and hotkeys, write a text message (SMS), read incoming messages, check missed calls, forward incoming calls to a colleague or synchronize contacts with your Google or Microsoft Exchange account.
Cloud administration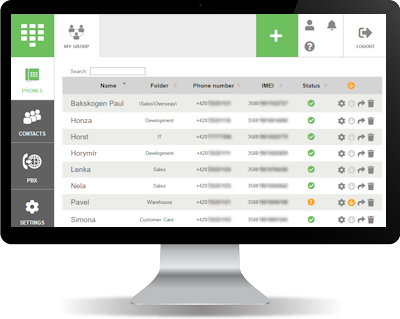 Jablotool.com (see guide) is also an effective tool for administration of desktop phones in companies. Administrator has an overview over phone statuses, can create phone groups and shared address books, set up call forwarding rules, assign users and define their rights. All with just a few clicks and without fees.
Features
Contact sync
Synchronize contacts in your Essence with  Google,  Microsoft Exchange or Jablotool account.
Remote access
Access your missed calls, incoming messages and phone settings remotely in our cloud. Stay in touch even when you are travelling.
Cloud administration
Administer whole groups of phones, check phone statuses, share corporate address book, define user rights, set up call forwarding rules and help users remotely.
Configurable call transfer
Essence has dedicated Transfer button with programmable USSD/DTMF sequence for call transfer.
11 Speed dial hotkeys
Dial your most frequent contacts with one button. The button lights up when the contact is calling or leaves a missed call.
Advanced call functions
Conference call, Mute, Hold, Call waiting, Call divert, HD Voice
Menu in 16 languages
English, Čeština, Dansk, Deutsch, Español, Français, Italiano, Magyar, Nederlands, Norsk, Polski, Português, Slovenčina, Slovene, Suomi, Svensk
Remote firmware update
Update of the phone firmware over the mobile network, initiated from the phone keyboard or via JABLOTOOL.com
Technical specification
Type
GDP-10
Technology
LTE, UMTS/HSPA+, GSM/GPRS/EDGE
Bands
GSM: B3/B8
WCDMA: B1/B8
LTE (FDD): B1/B3/B7/B8/B20/B28A
Voice codecs
VoLTE, HD Voice (AMR-WB)
Call functions
Conference call, Call waiting, Call forwarding, Programmable USSD/DTMF call transfer sequence, ECT (2G/3G only), Speakerphone, Mute, Hold, Caller ID
Other functions
Text messages (SMS)
Memory
5000 names (15000 numbers), 100 messages, 100 records in call history
One-touch access
Quick dialing (11 hotkeys), Call history, Contacts, Call transfer, Speakerphone, Silent mode
Cloud administration
Phone group administration, shared phonebook, contact sync, writing text messages (SMS), reading text messages (SMS), call history sync, remote call forwarding setting, assigning of user and user rights, firmware update
Menu languages
English, Čeština, Dansk, Deutsch, Español, Français, Italiano, Magyar, Nederlands, Norsk, Polski, Português, Slovenčina, Slovene, Suomi, Svensk
Dimensions
175 x 220 x 110 mm, 860 g
Powering
Adaptor: 5V/1A (miniUSB); EU, US, UK plug
Backup battery: 1300 mAh (Li-ion)
*) The manufacturer's extended warranty is provided on new phones in the official distribution in the length of 38 months after the first shipment from factory to the distributor. This warranty is based on our promise and our records related to each phone and thus does not require any proof from the customer.