Lasy Panstwowe protecting property
Littering, theft of wood and plants, and destruction of tourist destinations are the biggest threats to the nature today.
Lasy Panstwowe is the largest state organization of the EU in the field of forestry. It manages almost one third of the Polish territory. Lasy care not only about the biological diversity of forests, but also protect them against many dangers – from natural disasters, epidemics of insects, diseases, fires, pollution to the protection against poaching and vandalism.
For the 25 000 forest workers the forest is not only a workplace but also their passion. They take it as their aim to maintain and further develop forests, with the help of modern technology and equipment. Forests are the property of the entire nation, hence there is an urgent need to care for them to take advantage of all the economic, environmental and cultural benefits arising from them. It is the care for today and tomorrow, for the existence of the nation and country.
Vast area, hard access and lack of infrastructure make monitoring very challenging.
"Littering, theft of wood and plants, destruction of tourist infrastructure – these are our biggest problems, "says Arthur Dawidziuk head forester of the Forest Inspectorate Celestyn branch. "Expenditure on interference of illegal dumps in the woods reaches almost 40% of the total cost of forest protection." Similar situation is in other parts of Poland – for example, 7,000 tons of garbage are annually taken from Mazowice forests, which represents the costs of tens of millions of Euros.
"The camera uses the GSM technology, so it can be used anywhere without the need for creating communication network or other infrastructure. In addition, it can run up to several hours without the electrical power, just on battery power. For us it is literally true that it is wireless. It is very important for us because the camera is sometimes placed among the tree branches. Thanks to the infrared light, the camera sees well at night when most thefts happen. We are considering also connecting the system to the solar power."
Installing the cameras means saving on expenditures. During the first weeks of using the camera it helped us to convict three people who were subsequently accused of stealing wood and trying to establish an illegal landfill. Money saved can be used for the cultivation of the forest and further development of our activities.
"Installing the device also serves as a prevention. The cameras are deployed at different times to different places. Perpetrator can thus never be sure whether he is currently monitored," confirmed Arthur Dawidziuk.
Black mills and wood theft under control
Perfect solution for areas where the ordinary monitoring fails
Battery back-up or alternative powering for remote areas
Solution
EYE-02

Mobile security camera
Top quality professional wireless security system. It is a complex hardware as well as software security solution.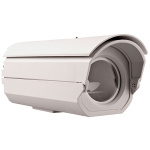 Outdoor cover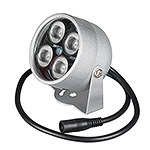 External IR light