Phone Administration: User rights & Call restrictions
The phone group administrator can restrict or block some functions of administered phones. This includes also the restriction applied on outgoing calls and text messages.
The user rights can be set in the agenda Settings. The User right are always set on the group level, the same settings apply on all phones in the phone group.
Tip: Do you need to apply different settings for some phones? Create two or more phone groups (see Creating account and phone groups) with different settings – e.g. Employees / Management, Employees / Hotel guests, etc.
Agenda Settings > User rights
Select phone group > Click Settings in the left vertical menu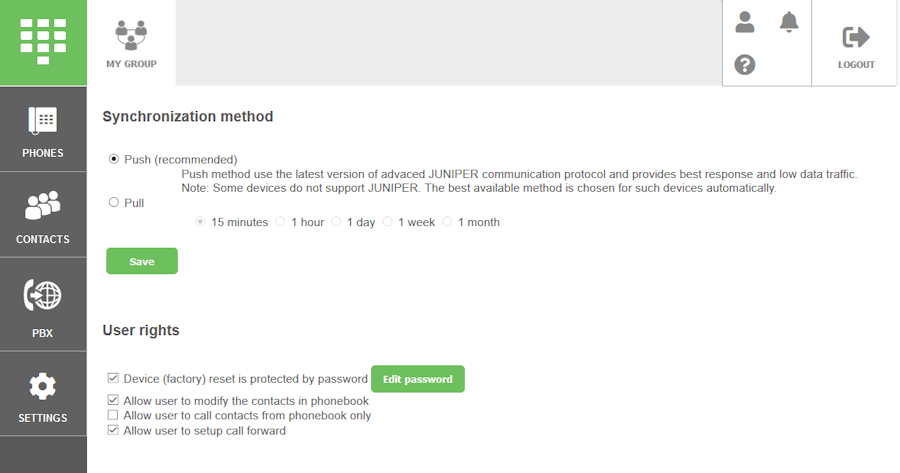 Device (factory) reset is protected by password. When checked all phones in the phone group requires password before performing the reset to factory settings. Password can be set by the phone group administrator and is valid for all phones within the phone group.
Example: Employees, hotel guests, patients, etc. are usually not allowed to perform reset to factory settings without consent of the phone administrator. Option is checked.
Allow user to modify the contacts in phonebook. When checked all users can add, modify and delete the individual contacts on their phones. The shared group contacts are always protected. (See Contacts for more details on types of contacts.)
Example: Employees in offices are usually allowed to add their own contacts to phonebooks of their phones. Thus, by default this option is checked.
Please note: Unchecking this option will delete all individual contacts (added by users) on all phones in the group.
Allow user to call contacts from phonebook only. When checked all users can call and text only those numbers which are stored in the phonebook of their phones. That means you can efficiently restrict calling to predefined numbers.
Example: Phones placed in hotel rooms are expected to be used only for calling within the hotel (to reception, spa, room-to-room, etc.) and to the emergency numbers. You can simply prepare the shared contact list (see Contacts for more details) and apply this restriction.
Please note: Checking this option automatically unchecks the option "Allow user to modify the contacts in phonebook".
Allow user to setup call forward. When checked all users can set call forwarding rules on their phones.
Example: You have set precise call forwarding rules for the whole group. You do not want users to destroy your system, so you will uncheck this option.