Phone administration: Contacts
There are two types of contacts:
Shared group contacts. These contacts are administered by the phone group administrator only. They are synchronized to all phones in the phone group. They can be changed on the server only, they cannot be changed on the phone. These contacts are typically used to share the internal contact list of your company.
Select phone group > Click Contacts in the left vertical menu
Individual contacts. These contacts can be administered by the phone group administrator, by assigned user, or directly on the phone. They are synchronized to one particular phone only. Using of individual contacts can be forbidden (locked) by the phone group administrator.
Select phone group > Select particular phone > Click Contacts in the left vertical menu
These two contact lists are fully independent and both of them can be synchronized simultaneously to each phone.
In the phone all contacts are shown and sorted as one contact list. The shared group contacts are marked by the lock icon.
On the server these contact lists are shown separately. Thus in the "individual contacts" view only individual contacts are shown, not the shared group contacts – and vice versa.


Tip: Check the chapter Individual vs group settings for details about group and individual settings.
Agenda Contacts > Phonebooks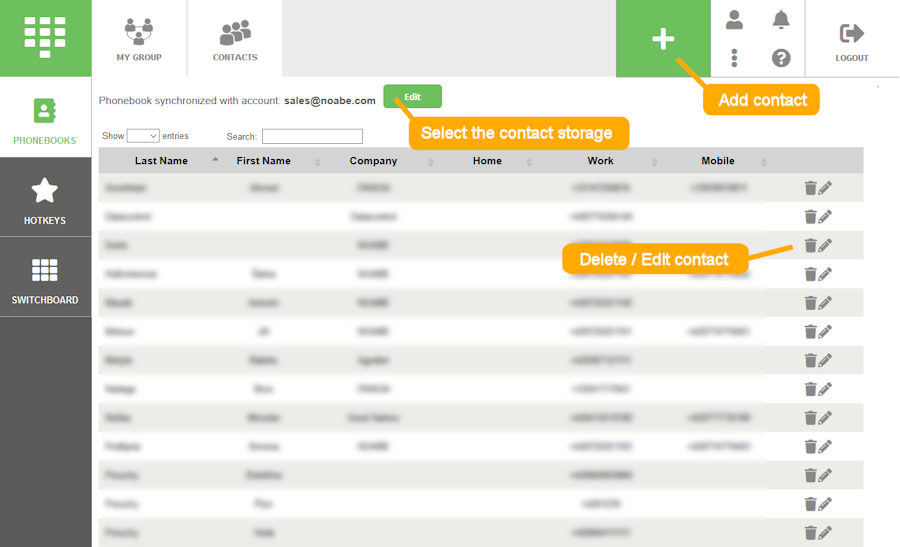 Contact storage
Contacts can be administered either directly on the Jablotool.com portal or can be synchronized with the third party service (Google Contacts, Microsoft Exchange Server*). When the contact list is synchronized with the third party service, the contacts are synchronized directly to phone(s) and are now shown and cannot be edited on Jablotool.com.
Choice of the contact storage can be done independently for the shared group contact list and for any particular individual contact list.
Example: You can have a phone group list administered on Jablotool.com, some phones can have their individual contact lists synchronized with Google, some with Exchange, some with Jablotool.com and some phones haven't individual contacts at all.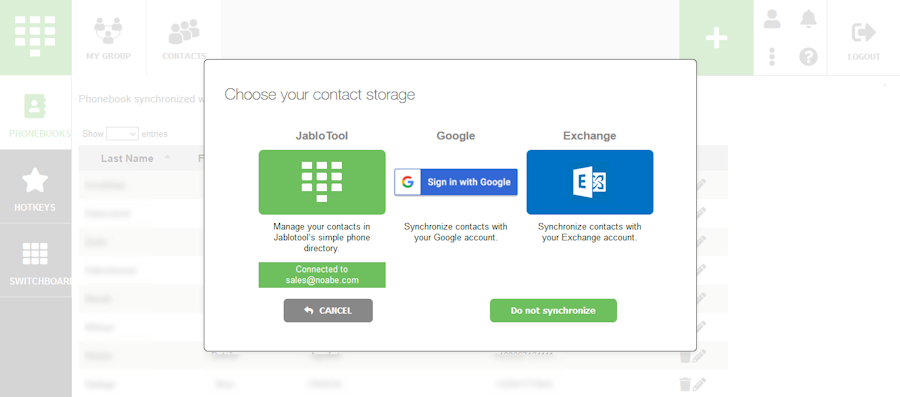 *) Your Microsoft Exchange Server needs to meet following criteria to be able to synchronize contacts with Jablotool.com:
Supported versions: Microsoft Exchange 2010, 2010 SP1, 2010 SP2 and 2013
Supported protocols: EWS (JabloTool uses the Microsoft Exchange Web Services Managed API 2.0 to connect to the EWS service)
Autodiscover service: The autodiscover of MS Exchange server allows to establish a connection to MS Exchange server by entering just the user name, email address and password.
Certificate: X509 Certificate2 issued by recognized authority
Please check the Guide to MS Exchange settings for details.